Wow, this post is so late in coming…. I blame WordPress. The original one I was working on, which was all ready to publish and disappeared. Since that irritating moment I've been in "run" mode getting ready to take a week off to spend with Christie before she starts her new job (which beings with a two week trip down to California for meetings). She's been off a week already and together we're doing a serious work sprint to make our respective offices, our bedroom, the living/dining room, and kitchen all more pleasant to be in and functional. So… no blog posts! Enough about life and back to the food!
The second day of VVC was also my 42nd birthday. I'd originally envisioned a big party for this day, but since I was at VVC and with all the Mom Drama that had been going on, I just enjoyed having a quiet day. I didn't even tell too many people it was my birthday.
Breakfast was the same spread as the day before. I wish there'd been some variation in the breakfast offerings. I feel bad to have any complaints about the food at VVC, since I run events I know how hard it is to deal with catering, but I was mostly disappointed to see the mushroom heavy scramble a second day in a row. I was at least amused to meet other mushroom-hating vegans in the buffet line to share our dismay. However, I enjoyed the biscuits and gravy again. I also left VVC breakfasts intrigued by the raw chia pudding — I loved the tapioca-like texture and although it ends up with a greyish tint, I think it might be fun to make a breakfast parfait with it and lots of fresh fruit.
The best part about my birthday breakfast on the 2nd day of VVC were the absolutely marvelous ladies I shared the table with, several who are real inspirations in my own cooking and how to talk to people about vegan nutrition. I found myself seated with Bryanna Clark Grogan, Ginny Messina, Julie Hasson, and Susan Voisin – Wow! Also at the table was a fabulous vegan chef from L.A. who is just getting into blogging, Chica Vegan – I admire her very smartly writing down names & blogs… since I cannot remember her name at all!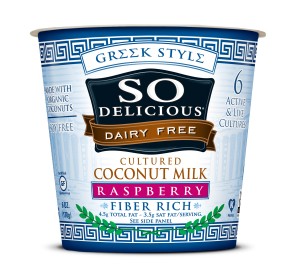 Both breakfasts also gave me the option of trying out new flavors and types of coconut yogurt from So Delicious. I thought the mango I had on Saturday was a good match with the tangy yogurt, but what I really wanted to try out was the Greek-style coconut yogurt they are coming out with soon. I'd been looking for some plain to go with the fresh fruit, but all that was left was raspberry. I was a little dubious, since I am really picky about raspberry flavored things, but I really wanted to try it out.
I was very pleasantly surprised by the tart, fresh raspberry flavor from real berries. I loved the thick, custard-y consistency that stuck to a spoon – something I even demonstrated for the table by holding my spoon upside-down to show that the yogurt was that thick and creamy! I really look forward to this product coming out. As much as the fruity kind might be nice, I'm really intrigued to get my hands on the plain for using in kormas, raita and tzatziki!
Side note: I was really tickled that the whole table appreciated my playing with my yogurt by holding the spoon upside-down. Not every conference can you be that kind of nerd about your food and people get it. Likewise looking around during meals and seeing at least 20 other people taking pictures of their food!
I was so hungry for lunch that I didn't take a picture of it on the second day, I just got eating it all up! Soy Curl fajitas, beans, rice, a raw zucchini hummus, and raw tacos in big lettuce leaves with a walnut meat filling and fresh pico de gallo. There was also Daiya cheese and yummy D.A.M. salsa. It was absolutely delicious and over lunch one of my awesome dining companions told me how easy it easy to make the raw walnut filling (raw walnuts, "taco seasonings", sun dried tomatoes in the food processor with some liquid – either water or lime juice).
After lunch I finally was able to meet Christy Morgan in person. I've been testing some recipes for her for a SE Asian cookbook, so it was a treat to really meet in person. I also got her cookbook, Blissful Bites
, from her (extra-special since she also got to sign it) and Christie's already been picking out things she wants to try.
I enjoyed the panels on ethics & product reviews and publishing I went to. I spent one block of time just hanging out talking to people. Picked up a box of herbal tea out on the registration table – haven't tried it yet. I left right after the publishing panel and apparently missed out on the wine given to presenters as well as a closing talk by Isa Chandra Moskowitz (bummer).
After all of that I hung out with Christie, Devon and Jax for some very mellow birthday celebrating. They all had lunch from Homegrown Smoker (I had bites of Christie's "MacNoCheese" – of course) and then a little birthday shopping for me at Art Media (gel medium, gesso, a fantastic brush cleaning jar, and a tiny easel for ease in photographing ATCs). Then on to Back to Eden for some birthday cake followed by a cocktail at The Bye and Bye (I was highly disappointed to not get carded, but the bartender reminded me that he recognizes me).
A quick cookbook round-up – in addition to Blissful Bites, I was given two cookbooks for being a presenter: The 30-Day Vegan Challenge
as well as Peas and Thank You
. All attendees received a copy of My Sweet Vegan
which Christie had been wanting to purchase so it was a perfectly timed bit of swag.
Earlier this week Christie made the baked mac & cheese from The 30-Day Vegan Challenge
and it was really delicious. It was really inspiring to hear Colleen Patrick-Goudreau speak about compassion during VVC. We're excited to read some of her other books and start downloading her podcast!